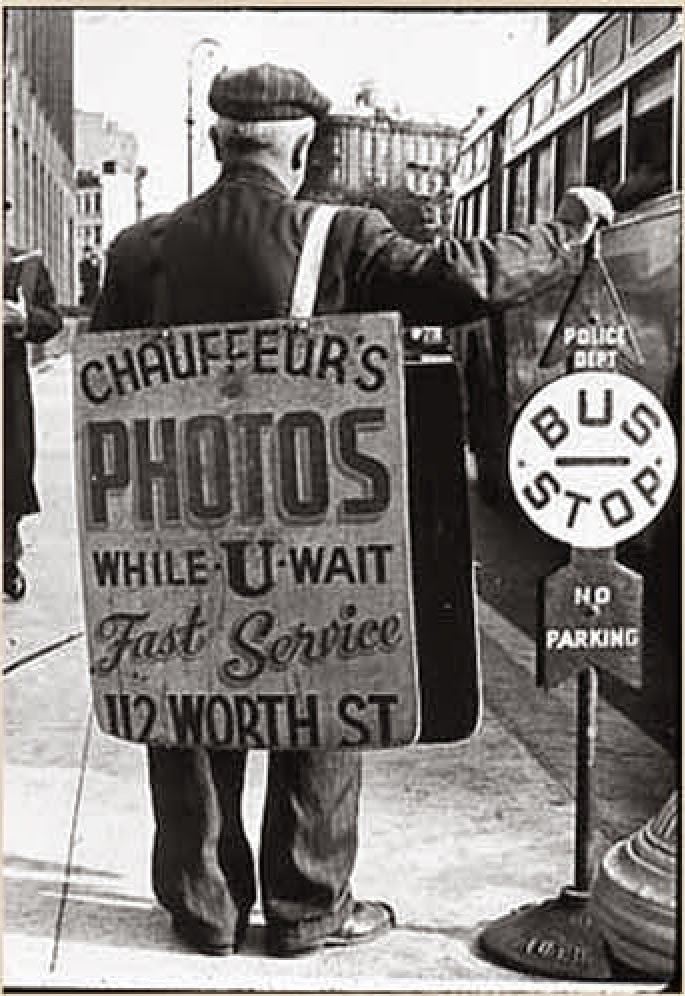 (Author's note: This case study was originally written in 2011 as a primer to generate a consultation contract. Some of the statistics may be out-of-date, but the information regarding marketing remains relevant to any business.)
What is Marketing?
Ultimately,"marketing" is any medium that provides a positive message or introduction to a product or service. Whether billboards, radio and television advertising, direct mail, internet,or word-of-mouth . Marketing is how you drive sales for your business. The picture to the right is an iconic example of building brand-awareness and sales during the 1930's. Marketing has always adapted to the moment and utilized new opportunities to increase sales. Translations from the walls of Pompeii have shown taverns and merchants eagerly promoted themselves by scrawling messages on walls throughout the city. Marketing is not new — but it is ever-adapting.
Marketing & New Technologies
In A Christmas Story, Ralphie eagerly awaits delivery of his Little Orphan Annie decoder ring. Upon its arrival he carefully writes each number so he can "read" Annie's special message. As he anxiously translates, he discovers the message reads, "Drink More Ovaltine".
Ralphie may have been disappointed, anticipated something more secret, but Ovaltine's marketing fully utilized the technology available. They sponsored the radio program, were featured within the program, gave away decoder rings by simply sending in the foil top from a can of Ovaltine, and advertised in the Little Orphan Annie comic books. Ovaltine was the "must-have" product for children. If for no other reason than to get the premiums.
Adapting to New Technology
Ovaltine's marketing team recognized keeping their message in front of children, and mothers, was the best way to maintain and increase sales.
As radio programs were replaced by television, Ovaltine recognized the need to adapt to the new entertainment medium. Ovaltine advertising could be found during children's programming, daytime television, and family-friendly programs.
Even in today's changing technology, you can still find Ovaltine. A Google search of Ovaltine produced 368,000 results in .17 seconds. Go to any blog talking about Oval­tine and you'll find a banner ad or Google Adwords selling or promoting Ovaltine. They didn't leave advertising, they just adapted their message to use new technology.
The Rice Garden and Branding
The Rice Garden is virtually invisible. A search of "Chinese in South Jordan" did not yield any listings for The Rice Garden, but nearly 10 for Panda Express. A direct search of www.thericegarden.com showed the nearest location as West Valley City, nearly 8 miles from South Jordan, although there is a location directly in South Jordan. A search of "the rice garden South Jordan" yields results, but it does not say it is located within the Smith's Grocery. This is not effective with an independent Chinese restaurant two doors down. A customer specifically looking for The Rice Garden in South Jordan is more likely to go to a competitor based upon the lack of exterior signage or specific location details.
"At the Rice Garden, I always know that there will be a line at Rice Garden, the food will be OKAY (at best), and there will be snot-mouthed rude people . . ."
This is from "above the fold", the first thing people see just from the search for "The Rice Garden".
The sixth is www.ricegardensettlement.com, a website for the class-action settlement for an unsolicited fax campaign.
During a visit to a local Rice Garden, the only visible advertising was a sandwich board located outside the entrance of the supermarket, and it doesn't say much.
Creating Brand-Awareness for The Rice Garden
The Internet has been called, "the word-of-mouth in the digital age". There was a time businesses and restaurants could rely upon direct word-of-mouth and location to drive traffic. An "early-adopter" would try a new restaurant and tell friends, family and neighbors. A convenient location and a good review would build a good clientele. The exception was exclusivity and a unique location. Now the Internet has made anyone with a computer an instant critic. Off-hand or negative comments on Facebook have been attributed to the sinking of a movie's opening in its first weekend. Restaurants are not immune from the same phenomena.
So how do we create brand awareness and overcome negative impressions of The Rice Garden with consumers?
Radio
The expansion of cable networks offers the ability to choose broadcast time, networks and DMAs. For as little as $70.00 per flight, advertising can be run on networks like Style, USA, CMT and Discovery. Through Google Adwords television, flights on DISH Network can be bid based upon how much you want to spend per 1000 impressions (people who see the advertisement for at least 5 seconds). Bidding by region, network and time, television flights can be organized to meet growth and branding within specific corporate regions.
A :30 – :60 second advertisement would cost $12,500.00 to film and edit. This is very reasonable and is filmed in HD.
Direct Mail
Whether piggy-backed in mass-mailers like Valpak or an individual postcard, direct mail remains an effective method of branding and driving clients to service and restaurant businesses. Offering a coupon for a FREE item or 10°/o off is an effective way to get prospective customers to remember a business, even if they don't use the coupon. In addition, direct mail can be targeted based upon zip codes. Targeting homes within a 5-mile radius of specific stores will drive sales. The average cost of a 9″x6″ postcard, with list rental, postage and printing is about $0.89 per card.
SMS
Mobile marketing via SMS (short message service) was heartily embraced in Europe and has been making significant in-roads within the United States. Companies like USA Network, Domino's Pizza and Papa John's utilize this powerful tool to reach their "loyal" customers. They offer contests, discounts and SMS-only specials that drive customers to the business. SMS can be used very quickly and by area code, allowing for a sales boost in specific regions if sales are slow for a specific day.
Double opt-in lists can be rented for an initial boost into SMS marketing or a list can be grown organically via in-store offers and the web site.
Internet
Internet marketing appears daunting to many businesses. People cite being unfamiliar with computers, let alone Internet code, to create an effective marketing web site. Often they have a very simple web site created because they feel they "have to", failing to take advantage that the Internet has given them their own "channel" to promote products and services.
Word-of-mouth is very important to any business, particularly a restaurant. Using a :60 second video on a web site where loyal customers discuss why they eat at The Rice Garden, what is their favorite dish, and how it is a value to their budget is incredible. A customer's testimonial on the web site can be interpreted as a word-of-mouth recommendation. In addition, video improves a web site's SEO (search engine optimization) by keeping people on the page for at least one minute, thus improving the web site's ranking.
Key words and banner ads are also an inexpensive and important method to improve Internet visibility. Selecting key words like, "Chinese, take-out, salt lake city" will put a sponsored link on-screen when someone searches for this information. This will give The Rice Garden an advantage in capturing this potential customer.
To support this, banner advertising can be purchased on web sites which the content and demographics match The Rice Garden's clientele. The banner ads can offer a link to a "Coupons" page on the Rice Garden web site. The click-through can improve SEO and individual store sales.
Internet – Outside The Box
Digital Signage
Digital signage is one of the fastest growing advertising mediums. Sometimes referred to as "Digital-out-of-Home" marketing, it is essentially any method of selling to an audience outside of their homes. Digital signage takes advantage of "dwell time". As a guest is waiting on line the digital signage is programmed with a variety of changing screens.
Digital signage is a "silent salesman". It overcomes the aversion some guests have to "being sold to", or possible language barriers. Influencing the guest before they have ordered, like suggesting eggrolls with their order, will increase the check average. It also will promote upcoming events, sales, promotions, catering, etc. Digital signage can be programmed to deliver any message that is advantageous to promoting additional sales, thus increasing the per-check average.
Digital signage is also effective at capturing the attention of the casual passerby. The bright screen and motion graphics are designed to draw attention to the message. If the signage gets a passerby to watch for 5 seconds, the chance to sell to them increases. It will also allow employees to engage with the individual. Offering friendly conversation and a suggestion of a signature dish will change a passerby to a client.
Digital signage can help make a sell. The presentation of the family meal in a photo or motion graphic can emphasize the value better than a steam table. Stating, "It comes with ….." may not be as effective as showing the customer how much they will take home. The pre­sentation of the appetizer platter may move them from an order of eggrolls to multiple items.
If you have questions regarding your business' marketing strategy, feel free to contact me at

darrensomsen@gmail.com

.